Long Reviews
These are extended essay/reviews published in the quarterly journal
Transition
:

Wolves in the Hills, a review of High Noon in Southern Africa by Chester Crocker
Abuses of Haiti, a review of The Uses of Haiti by Paul Farmer
Dry Season, a review of African Laughter: Four Visits to Zimbabwe by Doris Lessing
Zimbabwe and Haiti
The following are essays I have published about my six-month stay in Zimbabwe in 1990 and my visit to Haiti in December 1996. "Bureaucrats and Harmony" and "Haiti as a Tourist Destination" appeared in the
Harvard Post
, and "Fleurs du Mal" appeared in the
Boston Book Review
.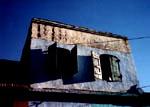 Fleurs du Mal: A Visit to Haiti
Haiti as a Tourist Destination
Bureaucrats and Harmony

Just for Fun
I was a finalist in the Imitation Hemingway Contest sponsored by Harry's Bar and American Grill. My entry was published in Volume II of The Best of Bad Hemingway, and was singled out for mention in the New York Times Book Review's "Noted with Pleasure" column.

Copyright © 1999 - 2015 Geoff Wisner. All rights reserved.
Designed and Built by Jenn Powered by ExpressionEngine.